Seduced by History
Monthly List of Historical Romance Releases by Hearts through History's published authors. Hearts through History (HHRW) is an on-line chapter of Romance writers of America.
Feel free to pass it along to a friend.
Available March
Ashlyn Macnamara

A MOST SCANDALOUS PROPOSAL
Ballantine Books, ISBN-10: 0345534743, ISBN-13: 978-0345534743
Regency
After watching her beloved sister Sophia pine over the ton's Golden Boy for years, Miss Julia St. Claire has foresworn love and put herself firmly on the shelf. Unfortunately, her social-climbing mother and debt-ridden father have other ideas, and jump at the chance to marry Julia off to the newly-named Earl of Clivesden... the man of Sophia's dreams.
Since resigning his Cavalry commission, Benedict Revelstoke has spent his time in London avoiding the marriage mart. But when he discovers that the Earl of Clivesden has set Julia in his sights, Benedict tries to protect his childhood best friend from the man's advances--only to discover more than friendship driving his desire to defend her. He surprises them both with the force of his feelings, but when she refuses him and her father announces her betrothal, he fears he's lost her forever--until Julia approaches him with a shocking scheme that will ruin her for all respectable society...
...and lead them into an exquisite world of forbidden pleasures. Available: February 26, 2013
http://ashlynmacnamara.net/
*******************************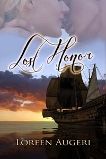 Loreen Augeri

LOST HONOR
Wild Rose Press, 978-1-61217-729-8 Paperback, 978-1-61217-730-4 Digital
Regency
Captain Morgan Danvers sets sail to rescue his brother, kidnapped by pirates. Fearing he will become like his father who abandoned him, he has cut himself off from his emotions. Then a willful stowaway crashes into his life, awakening dormant feelings and firing his lust. Soon he finds his all-important honor threatened, for even though he is betrothed to another, he is drawn to her against his will.
Arianna Pemberton hides in a barrel she thinks will be loaded on her brother's ship but lands on Morgan's brig. Her father has forbidden her to sail, and this is her only course of action. Unwilling to allow a man to control her, she is determined to make her way as a seaman, a profession she knows and loves. But when Captain Danvers discovers her deception, he refuses to permit her to prove herself. As she struggles to convince him, unwanted passion emerges, jeopardizing her plans for independence. Available: March 8, 2013
http://www.loreenaugeri.com
*******************************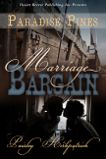 Paisley Kirkpatrick

MARRIAGE BARGAIN
Desert Breeze Publishing
Western historical
The dusty trail of a wagon train leads west, but Darrah Benjamin finds it a pathway to love and forgiveness when an arranged marriage becomes much more than a convenience. Wagon scout Chase challenges her determination with his promise -- she'll give him her heart and invite him to her bed before they arrive at their destination. Darrah will shape her own destiny and claim a woman's spirit along the way.
Charles Danforth, a scout known as Chase, leads a wagon train of emigrants west through plains plundered by murderers. As an undercover agent of President Polk, he has sworn to stop the massacres. Darrah's inadvertent comment gives him the clue he needs to achieve his assignment. His Sioux blood brother helps Chase end the killings, but almost ruins Chase's chance of winning Darrah's heart when he kidnaps her to demonstrate the depth of love Chase has for his wife. Available: March 21, 2013
http://www.paisleykirkpatrick.com
*******************************


Margaret Mallory

THE CHIEFTAIN
Grand Central Publishing, 978-0446-58311-4
Scottish historical
Connor, chieftain of the MacDonalds of Sleat, holds the fate of his people in his hands. Rival clans are plotting to take over his lands, and duty determines whom he will fight, trust ... even marry. Seeking guidance, Connor turns to Ilysa, a young lass with the gift of foresight, who reveals an approaching danger--and a passion that burns only for him. But the warrior must make a powerful marriage alliance, and Ilysa's bloodline is far too humble.
With her powers to heal and see evil where others cannot, beautiful Ilysa dresses plainly, speaks softly, and loves her chieftain from afar. Yet when Connor finally stokes the embers of desire that have so long burned within her, Ilysa feels bliss unlike any she's ever known. Now as he is forced to place duty before happiness, Ilysa senses Connor is in grave peril. Can she find a way to prove she is the woman he needs by his side? Available: February 26, 2013
http://www.margaretmallory.com
*******************************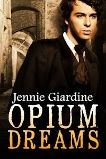 Jennie Giardine

OPIUM DREAMS
Eternal Press, ISBN: 9781615728725 (ebook), ISBN: 9781615728732 (print)
Victroian romantic suspense
A squalid opium den in a London back alley drew high society through the shadowy Victorian night...
Scandalous rumors of half-clothed women and good opium drew good Victorian society to Chi Ki's opium den. To here Alison escapes, sneaking out every night after her drunken, abusive husband sleeps, fleeing into the arms of other men, and into a trap that has been laid. What happens when her fate is tied to an author, who coldly manipulates lives to stimulate his art, a self-absorbed, playboy criminal, and an apparently good woman who secretly loathes her?
But how will Cayle be able to convince Becca, a determinedly self-sufficient spinster, that he can be more to her than just a protector?
Available: February 1st, 2013(ebook), print coming soon
http://www.jenniegiardine.webs.com
*******************************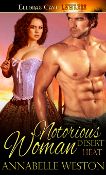 Annabelle Weston

NOTORIOUS WOMAN
Ellora's Cave, ISBN: 9781419938610
Western historical
Kate's a whip-wielding termagant, trying to protect her heart. Jake's bet he can charm her into submission, and finds he has met his match.
Available: March 6, 2013
http://annabellewestonromance.blogspot.com
*******************************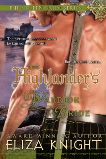 Eliza Knight

THE HIGHLANDER'S WARRIOR BRIDE
Self-published, ISBN: 978-1482531893
Scottish medieval romance
Their greatest opponent won't be battled with a sword... But with their hearts... Ronan Sutherland is a fierce warrior. Swearing off all else, he thrives on his powerful position within William Wallace's army. Freedom for the Scots is his mission--until he meets fair Julianna. She captivates him, intoxicates him... makes him want more out of life than what harsh dangers he's accustomed to.
Available: March 15, 2013
http://www.elizaknight.com
*******************************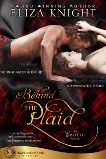 Eliza Knight

BEHIND THE PLAID
Self-published, ISBN: 978-1482531923
Scottish historical, erotic, time-travel
He dominated her mind. She possessed his soul. Desperate for independence, Emma Gordon leaves her husband while on a trip in the Scottish Highlands. Only thing is, she ends up hurled back in time to the 16th Century Castle Gealach and headlong into the arms of the handsome, intimidating Laird Logan Grant. Thrust into a world filled with treachery, danger and intensity she must summon the courage to find her way.
Available: March 15, 2013
http://www.elizaknight.com
*******************************


Maggi Andersen

A BARON IN HER BED
Knox Robinson Publishing, ISBN: 978-1908483348
Regency
Horatia's plan to join the London literary set takes a dangerous turn. Now that the war with France has ended, Baron Guy Fortescue arrives in England to claim his inheritance. When Guy is set upon in London, a stranger, Lord Strathairn, rescues and befriends him. But while traveling to his country estate, Guy is again attacked. Guy suspects his relative, Eustace Fennimore, is behind the attacks on his life. Horatia refuses to believe her godfather, Eustace, is responsible. Secure in the knowledge that his daughter will finally wed, Horatia's father allows her to visit her blue-stocking aunt in London. But Horatia's time spent in London proves to be anything but a literary feast, for a dangerous foe plots Guy's demise. She is determined to keep alive her handsome fiancé, who has proven more than willing to play the part of her lover even as he resists her attempts to save him.
Available: March 6, 2013
http://www.maggiandersenauthor.com
*******************************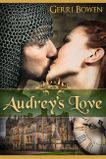 Gerri Bowen

AUDREY'S LOVE
Highland Press, ISBN: BOOBB1165A
Medieval Time Travel
While on a trip to England, Audrey rolls down a hill one summer night and lands in the winter of 1068. She finally accepts the fact she has gone back over nine hundred years to the past, but... why? What is she supposed to accomplish?
Sir Rolf first believes the strangely garbed woman who rolls in front of him is the wife of a rich lord. Then he is convinced she is a Saxon spy. But the Saxons at his holding insist she is Deira, the old lord's daughter returned to them--except Deira died and was buried ten years ago. After learning the dead daughter was murdered, Rolf knows he must protect Audrey from the murderer, who may strike again.
Audrey and Rolf fight the mutual attraction they feel for the other while trying to discover the reason she was sent back in time.
Available: February 3, 2013
http://www.gerribowen.com
---
Still Available


Mary Galusha
SAPPHIRE SKIES
Desert Breeze Publishing, 978-1-61252-271-5
Western Historical
Austrian immigrant Lili Kohl wants to get a homestead in Montana for her family to live on when they come to the United States. But someone in the town of Cedar Creek is using their influence to keep the property from her. Homesteader Gabriel McCall has put a hold on the property adjoining his, hoping his younger brother will homestead it later, fulfilling a promise Gabriel made to their dying father. Meanwhile he tries to be helpful to Lili, because he sees her as a greenhorn. After he rescues her from abductors and they stay warm in a cave, their attraction to each other grows. Then her parents arrive unexpectedly and her father disapproves of Gabriel, who has finally given up on farming with his brother. Now Lili fears losing her family's approval by loving Gabriel.
Available: January 21, 2013
http://www.marygalusha.com
*******************************
Jennifer Brassel
"A Lady's Honor" in the anthology MOONLIT ENCOUNTERS
TWC Press, 9781301947577
Medieval novella
A medieval warrior struggles with his duty when a healer captivates him...
Part of a diverse collection of short romantic fiction from eight different authors, from different genres, for all readers
Available: December 12, 2013
http://www.jenniferbrassel.com
*******************************
Suzi Love
EMBRACING SCANDAL
Crimson Romance, ISBN - 1440560498 (ISBN13: 9781440560491)
Late Regency
After Lady Rebecca Jamison, a mathematical genius, saves her family from financial ruin by secretly investing in railway stocks on the London stock exchange, a greedy syndicate, desperate for Becca's calculations and predictions, murders her friend and threatens the Jamison family, forcing Becca to beg assistance from her childhood friend, Cayle St. Martin.
The newly titled Duke of Sherwyn has returned to London after five years on the continent extending his family's shipping interests. He's shunned his privileged London life and his father's unbending attitudes, and becomes committed to employing the spying tactics he learned on the continent to help Becca indict the syndicate--and using his skills as a lover to seduce her into his bed.
But how will Cayle be able to convince Becca, a determinedly self-sufficient spinster, that he can be more to her than just a protector?
Available: February 18th, 2013
http://suzilove.com

---
Coming in April


Barbara Monajem
THE MAGIC OF HIS TOUCH
Harlequin Historical Undone, ISBN 978-1-460-31096-0
Regency Novella with a touch of paranormal
Tired of being paraded before every eligible bachelor, Peony Whistleby decides to find her true love--through the ancient custom of rolling naked in the dew on May Day morning. But the magic goes awry when she is caught in the act--and by an entirely unsuitable man. And yet, the way his eyes linger upon her flesh ignites a sensual craving that can only be satisfied by his touch...
Available: April 1, 2013
http://www.barbaramonajem.com
*******************************
L. B. Joramo
THE IMMORTAL AMERICAN
Self-published
American Revolution historical novel with paranomral and romance elements
While Boston roars with protests, Violet Buccleuch fights to survive. The lone provider for her mother and sister, Violet knows that soon enough she must surrender to the only option a woman of 1775 has: marriage.
For two years she's delayed a wedding to Mathew Adams, her fiancé. He's loved her since they were children, and Violet knows he will be a good husband. But he's gone and committed the most dangerous mistake a man can make: He's introduced her to his friend, Jacque Beaumont, a Frenchman and a spy, a dark, dangerous man Violet can't stop herself from wanting.
Then Violet's life is shattered--brutality, death, and the threat of debtor's prison surround her. Both Jacque and Mathew come to her aid--one man rescues her farm, the other rescues her heart. As the Battle of Concord rages at her door, Violet is entangled between her loyalty to Mathew, even as she's drawn further into Jacque's shadowy, mysterious world – perhaps a world from which there's no return.
Available: April 1, 2013
http://www.lbjoramo.com

---
Feel Free to pass this newsletter along to friends. If you received it from a friend and would like to subscribe send an emails to SeducedByHistory-subscribe@yahoogroups.com. Please note that your privacy is important to us. We do not give out email addresses.